7v7 soccer formations enhance skills and develop a sense of positioning and game. The smaller playing area allows players to familiarize themselves with the field. 7v7 soccer formations improve techniques like dribbling skills etc.
It helps to control the ball and give more touches to the ball. It develops players to focus on attack and muscle up a strong defense. 7v7 soccer formations are necessary to build players' skills and understanding of the 9v9 and 11v11 games.
The Upgraded Form of the Game:
Before the 7v7 soccer formations, players compete in 4v4 without a goalie, 5v5, and 6v6 soccer formations with a goalkeeper. More players and an extended field mean players need more time and a long run. So, be patient with players in the upgraded form of the game.
Utilizing Players' Strengths:
While choosing any of the 7v7 soccer formations, remember no one is perfect. It all depends on the team. You may have a quick and secure defense. You could have a strong midfield and striking abilities.
Alternatively, you may have a balanced squad. Either way, it is essential to consider the team's strengths and shortcomings before choosing your best formation.
Player Development:
Many coaches focus too much on a result which creates extra pressure on the player. Despite that, the focus should be on the players' skills and social and personal development rather than on winning games.
Once your team build-up, they automatically start winning games for you. Every player should get proper training time. Ensure to talk with every player about their strengths and flaws. Make them feel fun in training and exercise.
What Are the Best 7v7 soccer Formations?
Best 7v7 soccer formations:
Let's take a look at some of the 7v7 soccer formations, their pros, and cons to see which suits you much:
2-3-1 formation.
3-1-2 formation
3-2-1 formation.
3-1-1-1 formation.
2-2-2 formations
2-1-2-1 formation.
Now we will discuss each formation with its strength and weaknesses:
2-3-1 Soccer Formation:
2-3-1 is one of the most common and balanced formations. It covers most areas of the field so that players have a lot of room. It provides stability at the back, with two defenders. Three mid-fielder protecting the back line with their immense support and a lone striker playing forward. In this formation, a team must have reliable defenders and strikers.
2-3-1 Soccer Formation – Strengths:
One of the most balanced.
Easy to understand responsibilities.
Solid defense, treating attack, and good possession of the ball.
2-3-1 Soccer Formation – Weaknesses:
Midfielder requires a lot of running.
Defending too wide allows more gaps.
2-1-2-1 Soccer Formation:
Two midfielders work closer to the striker and enhance the attacking capability. The other three make the defense well-built. Midfielders will serve both defensively and offensively.
2-1-2-1 Soccer Formations – Strengths:
Easy to know about roles, either defensive or attacking.
Set defense and attack to win the game.
Attacking players have the freedom to express themselves.
2-1-2-1 Soccer Formations – Weaknesses:
Divided midfield.
More space between players.
3-1-2 Soccer Formation: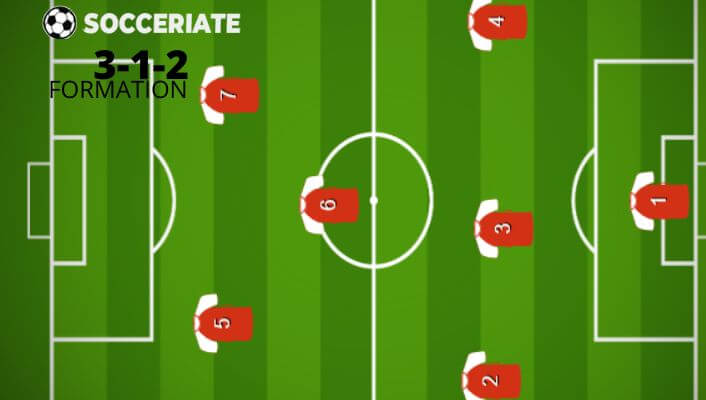 It suits when you prefer strong defense with a good attack. You need a hardworking midfielder, trained attackers, and defenders to react quickly and fluidly to situations. Players have a lot of freedom and plenty of options.
3-1-2 Soccer Formation – Strengths:
Players learn how to position and teamwork.
Good practice for a striker to play with various responsibilities.
Strong attack and defense.
3-1-2 Soccer Formation – Weaknesses:
If the fullback makes mistakes, the game becomes narrow and defensive.
Require outclass the midfielder.
If the defender and attacker do not take a position in a fluid and effective manner, the midfield becomes less effective.
3-2-1 Soccer Formation:
This approach is quite defensive by offering a solid defensive unit and control of midfield in addition to a threatening attacker. It requires a dynamic midfield and weighty defense but not much fluidity.
3-2-1 Soccer Formation – Strengths:
Tough to break defense because of three defenders and two midfielders.
Possession and dominance in the center.
A bit relaxable for players.
3-2-1 Soccer Formation – Weaknesses:
Too defensive.
There may be a lack of width.
In some cases, it can confuse the players.
3-1-1-1 Soccer Formation:
Another version of the 3-2-1 formation. The only requirement of this formation is you need the right player at the right place. You can score well but can not keep possession for a long time. Worthy experience if you do not have a wide mid-fielder
3-1-1-1 Soccer Formation – Strengths:
Unbreakable back with three defenders and a defensive midfielder.
Helpful for players to increase their on-field skills.
A striker and attacking midfielder at a time.
3-1-1-1 Soccer Formation – Weaknesses:
Tough to keep possession.
If the attacker and midfielder do not work together, it can put a team struggle.
It is narrow because fullbacks must push forward.
2-2-2 Soccer Formation:
One of the most balanced between defense, midfield, and attack. One of the most frequent 7v7 soccer formations. However, when used efficiently and with the right personnel, it can be terrific to deploy. The team may have trouble maintaining possession if players don't take on varied roles or establish different passing angles.
2-2-2 Soccer Formation – Strengths:
Strong defense with an attacking forward option.
Easy for youngsters to learn responsibility.
Strikers must drop wide, take chances, and work with others.
2-2-2 Soccer Formation – Weaknesses:
The possibility of encircling the flanks exists.
To create passing angles, width, and space. Midfielders and attackers must push out wide.
If you lose control of the ball, nobody can push it wide.
conclusion on 7v7 Soccer Formations
7v7 soccer formation can use to play any style of soccer. Some include more wide players and attackers rather than defensive. There is no perfect formation. It depends on your team and which game style you want to play.
Read More From Socceriate